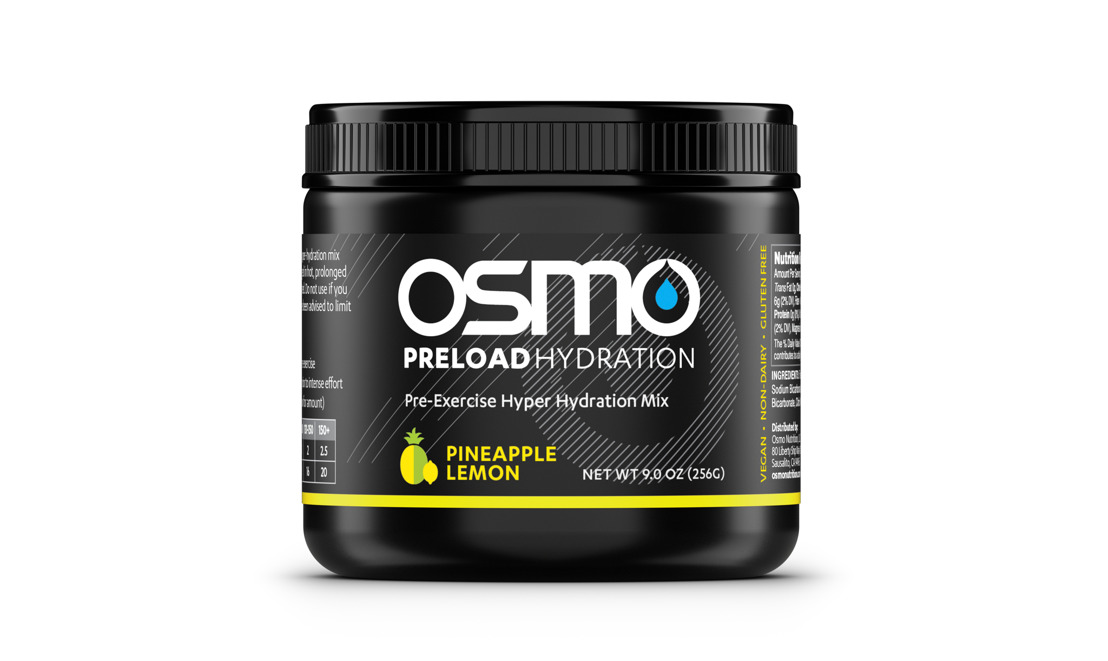 Osmo PreLoad Hydration-Prepare to Perform
Maximize your performance with hyper-hydration. Using Osmo PreLoad Hydration before you exercise sets your body up for success during high intensity or ultra-endurance events.
Developed for use before and during hot conditions, time trials, or high intensity activities, Osmo PreLoad contains an optimized ratio of natural and functional ingredients including sodium bicarbonate and sodium citrate to maximize and sustain power during intense efforts.
When Osmo says "hydration is power," they mean it.  Aerobic power drops as you lose water and increase body temperature during exertion; by the time you're thirsty you've dropped about 2% below optimal body water content, which can result in an 11% reduction in power output.
In hot environments and/or during high-intensity efforts, athletes lose fluid faster than their body can replace it by drinking, which can hurt performance. Your body works to regulate increasing core temperature by sweating. For cooling to work, you need to maintain a balance of fluid in your body, so you can sweat properly and maintain your plasma volume.
Fortunately, Osmo PreLoad Hydration can prepare you for this through hyper-hydration, which means going into in an event with extra body water, keeping dehydration and it's related performance losses at bay. For best results, drink Preload the night before and the morning of an intense effort.
PreLoad Hydration is ONLY for use before intense efforts, ultra-endurance events or exercise in hot conditions. Not for use during exercise.
Key Benefits to Hydrating BEFORE a Workout with Osmo PreLoad:
Increase Performance During Hot and Intense Efforts

Maximize Sustained Power

Reduce Muscle Fatigue and Cramping
Flavors and Pricing:
Flavor: Pineapple and Lemon

MSRP: $25.00 ( 256G/ about 20 servings)